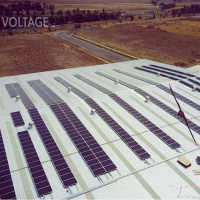 Commercial Solar or Other Energy Reduction Solutions
Register your interest (just 9 seconds!) – Our team of engineers will assess your needs & site to develop a project brief - 2/3 trusted commercial installers will do proposals – Our team of engineers walk alongside you for Project Advisory and Go-To-Market services – We do site visits and phone clients after-sale until you get the 1st-bill post install
Available in: New South Wales, Queensland, South Australia, Victoria, Western Australia, Northern Territory, Australian Capital Territory
Why your phone no & address? To give you best-suited solutions the suppliers need to ask a few questions and satellite-view your roof. We work with only respectful, caring suppliers who value your privacy and needs.
We'll only connect you with 2-3 trusted suppliers. So you won't get bombarded by 6-9 pushy/ sleazy sales cowboys (It does happen out there!)
We get paid small % fee by the suppliers (same across suppliers - hence we can be on your side for your best option) because we help great suppliers save expensive sales/ marketing money by connecting them with great qualified clients like you.
Expect to be contacted within 1-2 business days
Please keep record of your email and password as you can log back into this website to monitor the status of your enquiry or stop the process if you want to.