Solar-Energy-as-a-Service Part 2 - Factors to Consider
The benefits of Solar-Energy-as-a-Service (SEaaS) are outlined on part 1 of the article and summarised visually below.

What are the factors to consider before going ahead with Solar-Energy-as-a-Service?
A. The flexibility of the SEaaS agreement as the terms vary between agreements
Negotiation with SEaaS provider is important to maximise your benefit. On case-by-case basis, certain provider may be able to accommodate the following:
• When the system is being transferred to incoming tenant or next business owner, generous non-payment period can be accommodated when the building is empty.
• We can source you an agreement where you can choose to buy the system out at a depreciated price at some point during the term.
• Sharing of market risks between the end-user and the solar provider, such as a guarantee for minimum difference between grid electricity rate and the solar contract rate that can lead to contract rate adjustment
B. Is your SEaaS based on consumption or generation?
C. How long should your agreement term be based on your needs?
D. What is your consumption profile like?
The profile of the supply can be wrapped (in conjunction with a suitable retailer) or firmed up to suit your consumption profile. Free Engineer (FE) are data-driven engineers and specialists who are passionate about analysing your data to obtain the best solution for you.
E. What if the grid electricity cost drops below the solar contract rate? This is unlikely as the solar energy cost has dropped significantly recently and grid electricity price has increased considerably. The below figure is Annual average wholesale market spot price forecast, BAU, per state in the NEM as shown in PwC report: "Optimising Energy Procurement via Corporate PPAs"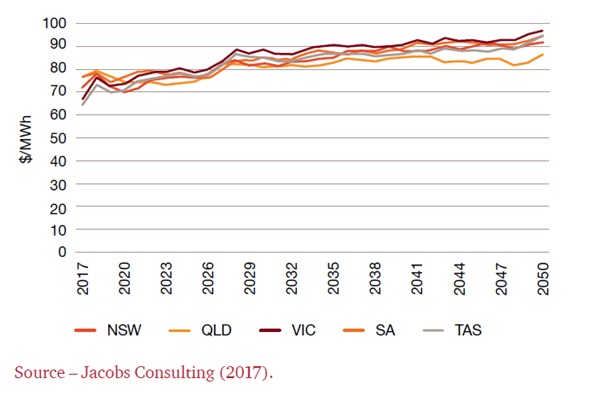 It is obvious above that upward trend is expected on electricity price.
F. What if you don't have enough roofspace?
In principle, Solar-Energy-as-a-Service can take 2 forms:
a.  Direct (behind-the-meter)
It means physical connection between the renewable energy generator (plant) to the consumer.
b.  Virtual (financial/ synthetic)
This means the solar farm can be set up remotely and it can sell directly to the wholesale electricity market. The end-user (consumer) then can benefit through Contract for Difference between the agreed 'strike' solar energy price and the spot price.
This is the answer to corporates whose roofspace is not big enough to cover their consumption. FE can help our clients find uncontracted solar farms around Australia and arrange virtual PPA, subject to eligibility.
G. Counterparty risk
This refers to the risk of the solar energy supplier may become insolvent and not be able to meet its obligations under the contract. FE can help the end-user to find a long -term creditworthy provider with solid track records.
H. Accounting implication
If the Solar-Energy-as-a-Service agreement is considered a lease and recognised on balance sheet, there could be an impact on a company's income statement. Our consortium can help you work towards terms that will be suitable for your accounting.
In conclusion, with all the benefits, it's no surprise that prominent industry leaders and institutions such as Telstra, Carlton United Breweries, Coca-Cola Amatil, University of New South Wales, University of Melbourne have gone ahead with this smart, no-brainer strategy. Why not you and why not take control of your energy costs now? Obviously, you'll need an independent, specialist advisors with technical backgrounds to ensure you get the best solution.
Please contact our advisor and engineer NOW to book a FREE consultation.