How Much has Solar PV Cost Fallen Recently?
Perhaps you have thought about the idea of saving power cost or being more sustainable. Yet, you are not early adopters because the dollar figures have to stack up for your business first before you can progress to the next base. You then decided to wait until solar panel's cost come down low enough to achieve better payback. We get it – Investing on renewable energy cannot be at the expense of profitability or business viability.
While our other articles illustrate other aspects of solar, this article focuses on the bottom line that you are interested in: How much has solar power cost fallen recently? How much longer should you wait until you decide to do the best thing on power cost?
So here we go: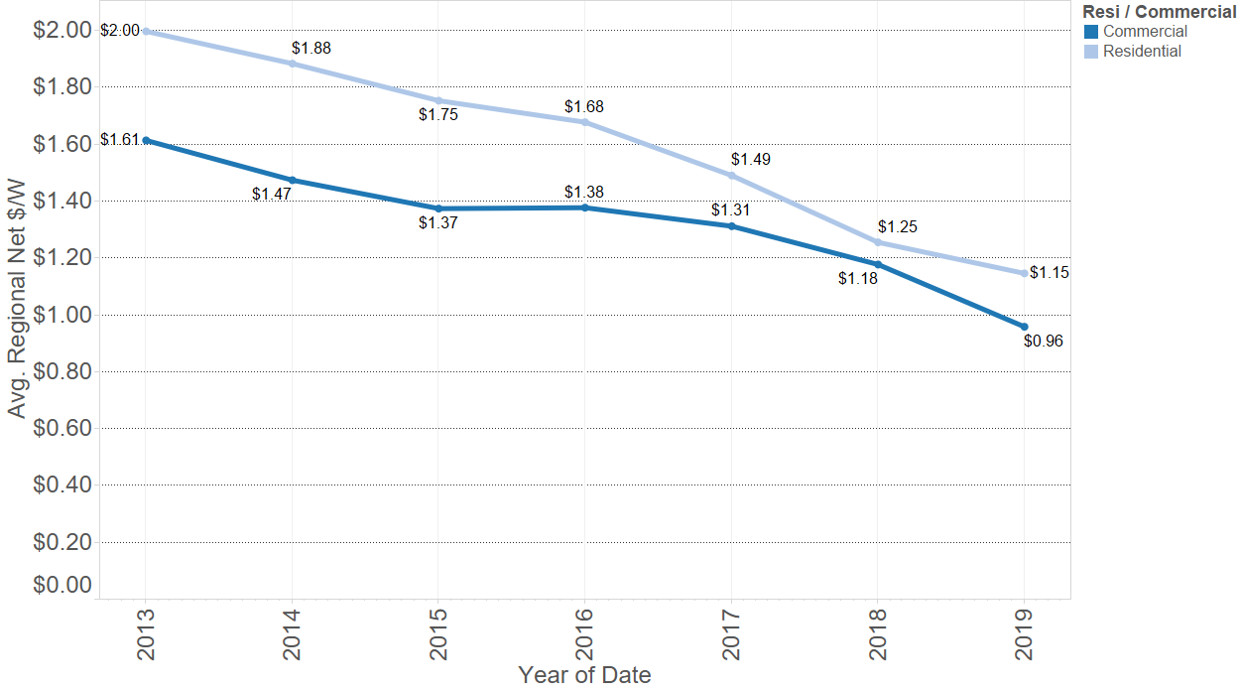 From: https://www.sunwiz.com.au/ - Independent Australian Solar Market Intelligence
Why these downward trends?
An analysis by MIT researchers (from: http://news.mit.edu/2018/explaining-dropping-solar-cost-1120) has pinpointed what caused the savings, including the policies and technology changes that mattered most. For example, they found that government policy to help grow markets around the world played a critical role in reducing this technology's costs. At the device level, the dominant factor was an increase in "conversion efficiency," or the amount of power generated from a given amount of sunlight. For about the last decade, however, the largest single high-level factor in the continuing cost decline has been economies of scale, as solar-cell and module manufacturing plants have become ever larger.
What are the key takeaways?
The average price of commercial solar is now over 40% less (from $1.61/Watt to $0.96/Watt) than that of 2013. There's never been a better time to buy a solar power system! Note these are average prices and are affected by each project's complexities – Please consult one of our engineers to be more precise.
System prices fell 8% in 2019, despite the reduction in government subsidy/ incentive.
There's no point in waiting much longer – prices continue to fall, but not very rapidly. This means the money you might save by waiting a year is far less than the savings you'll make on your electricity bill these days.
Not going solar until battery prices fall further would cost you (see an analysis our engineers have done here: https://www.freeengineer.com.au/blog/post/go-solar-now-or-wait-battery). Buy an accurately-sized solar system now and add storage later
Why act now?
It's widely-recognised now that not having solar would cost your organisation money every single day. Apart from that, there is additional urgency due to:
• The coronavirus issues have indeed caused disruptions to the supply chain of the solar industry. You may not be able to secure the panels you like if you don't act quickly, as what happened to a few of our clients. Some suppliers have advised us that they don't know what will happen beyond the next couple of months. [Update as of March 2020: This is expected to result in probably 2-3 c/ Watt price increase - It is necessary to confirm with the supplier asap if your price has changed]
• Some of the best solar installers are booked out in advance due to very high demand in the market. Going for cheap solar companies, even if they're supplying tier-1 equipment, could be a grave mistake.
• Some businesses need to wait for board meetings etc prior to making decision. Coupled with the delay in getting electricity distributor approval, going solar could take some businesses more than 6 months!
If you want to formulate the best plan of attack, then please secure a free consultation with one of our engineers by emailing eric@freeengineer.com.au now.